You have a product or service that you want to market. But how do you go about it? You could just improvise and hope for the best. Through trial and error, you may eventually get it right. Of course, by that time you may have also run out of budget. A better approach would be to properly map out your marketing strategy to maximise your return on investment. With that in mind, these are the core components of a marketing plan.
Market analysis
You can't just barge in and assume you are the only player in the field for any given industry. You need to be aware of who else is out there selling a similar product or service. Once you've identified your key competitors, it's time to do some detective work and figure out what sort of strategies they have in place to market themselves. There are plenty of tools available online that will help you discover this information such as SEM Rush. Utilising this tool can successfully provide you with detailed information on your competitor's digital marketing strategy. SEM Rush can help you crack the code on the following:
Back-link profile

Keyword analysis

Site audit

Competitors PPC adverts

Advert copy

Web traffic and organic search rankings
In your investigation don't forget to analyse the weaknesses of your competitors overall digital marketing strategy too. Not just discovering but understanding your competitor's weaknesses will help you create a competitive advantage.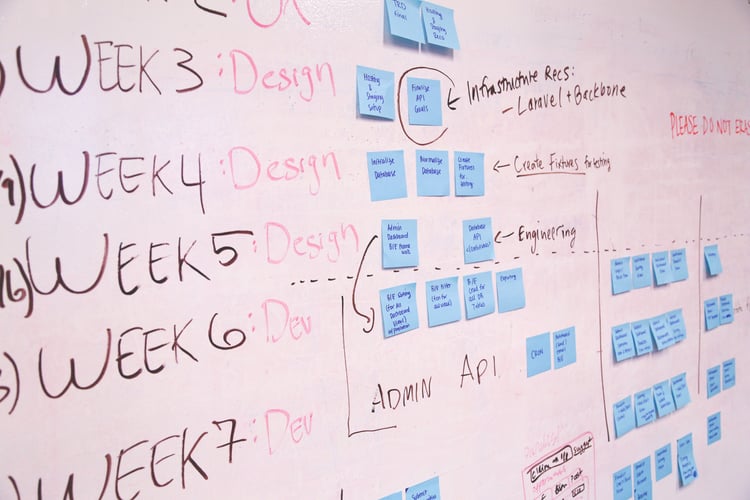 Target audience
The next item on our list of components of a marketing plan is your target audience, this is very much linked to your market analysis as the whole idea of doing the research is to ensure there is a customer base to tap into. One of the first steps in a solid marketing plan is digging into your target customers profiles and really understanding who they are. Figure out the gender, age, buying habits, pain points, hang-outs and expectations of your ideal customer. We recommend starting by creating buyer personas for your core targets that will help you define who you are going to try and reach and gather deep customer insight.
Understanding your ideal customer in-depth will help with developing your content marketing strategy as you can tailor your content to solve your personas business problems. Offering content that solves these problems will not only attract new customers but delight your current customer base too - it's a win-win! This process will also help you understand what marketing channels are best suited to this audience and adapt your budget accordingly. It makes it easier later down the line to decide what channels are worthy of your time. A good persona also helps you develop a tone of voice befitting of your brand and in line with your target audience's habits.
SMART objectives
You've researched your competition and coined your target audience, it's time to set goals. Using SMART objectives, you can define what you want to accomplish as a brand. The SMART acronym generally stands for:
Specific: What specific demographic of your target audience are you chasing?
Measurable: Can you track your success rate?
Achievable: Are the goals you have achievable?
Realistic: Are these achievable goals relevant and realistic?
Time effective: Is your time-frame to reach your targets realistic?
With good SMART objectives put in place, you can start defining your different call to actions (CTA's).
Selecting and planning your various channels
Now you've understood your competition, target audience and set yourself some SMART goals to achieve it's time to select and plan the various channels you'll utilise within your digital marketing strategy. A good place to start is to analyse the size and scale of your business. If you are a larger business, who has been in business a few years and is fully functional you will need to begin by reviewing the data you already have available to you. Try analysing your website visits, Google Adwords data and content marketing to understand where the majority of your traffic and visitor engagement is located.
If you are a smaller scale business or a start-up then you will need to test different marketing channels to see what works best for you. Start by allocating budget to a few areas, then review and re-define and tweak accordingly.
Tracking and analysing
The single most amazing thing about modern, digital marketing, is that almost every aspect of your strategy can be measured. A popular method of measuring your digital marketing efforts is closed loop reporting. This style of reporting enables you to consolidate all of your marketing efforts into one easy to access place. Closed loop reporting can offer you complete visibility and detailed insight into every aspect of your marketing strategy and each individual channel. Please see below an example of a type of closed loop reporting:
You can get reports on unique visitors to your website and other online channels like social media. Other metrics are exit rates, click rates, open rates, conversion rates and any other bit of information you can think of. This very detailed overview of your customer journey helps to rapidly identify weaknesses and address them but also push strengths. Marketing is all about crunching numbers, looking at reports and making informed decisions rather than randomly guessing.
Expenditure
Once you've got all the information you need, you can start to concretely set up a strategy using all these components of a marketing plan. It will rapidly become apparent whether your budget is appropriate. If you are lacking in funds, you will now know what to focus your budget on. But maybe you were also over budgeting, which is always a lovely surprise! Having a clear idea of budget and ROI targets helps you to adjust on the fly. After all, a good marketing strategy should be scalable and adaptable to business performance and changes.
Do you want to find out if you've got these different components of a marketing plan waxed? Why not book a free 30-minute digital marketing review with us to help you find out?