The way people buy is changing. For example, did you know that 60% of purchase decisions are now made before customers even talk to a sales rep? As a result, traditional marketing methods are on the decline. In fact, just 16% of marketers say that outbound provides them with the high quality leads they need - which means inbound is becoming more popular and is now being described as the future of marketing. So if you want to think smarter and grow faster, it's time to get onboard with an inbound marketing agency.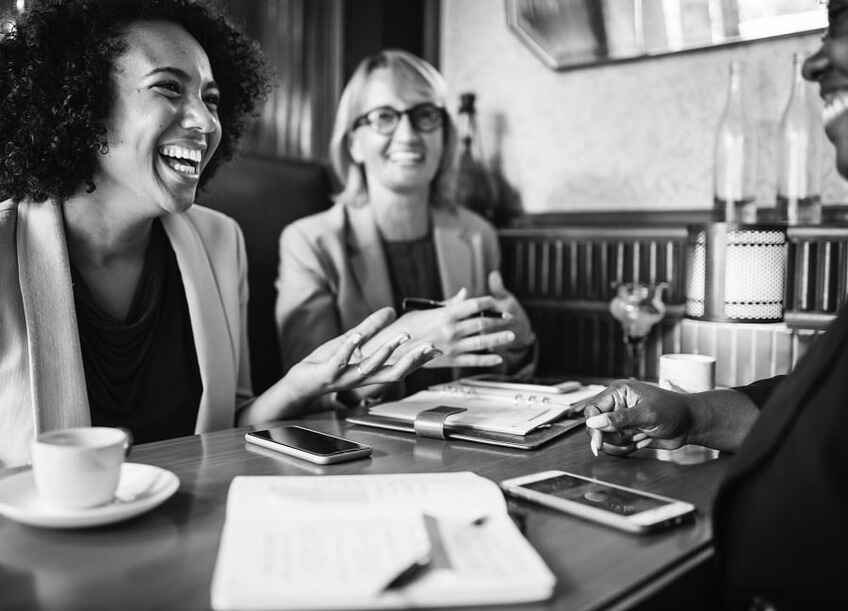 What is inbound?
Before we start harping on about how inbound can help grow your business, let's go back to basics and make sure we're all on the same page. So, WTF is inbound? Well, rather than wasting your time and effort desperately trying to attract the attention of your prospects (dated DMs and dodgy desk drops, I'm looking at you…) inbound is all about creating and sharing valuable and informative content that appeals to your audience and attracts them to you so you can stop doing the chasing. Clever, huh? It works on the principle of attract, convert, close and delight, and allows you to provide your customers with useful info so you can address their needs wherever they are in the sales cycle. That means you can nurture client relationships over time, turning them into long-term partnerships - and giving your business the fuel it needs to keep on growing. Read on to find out how it works…
By attracting the right visitors to your site
There's no need to waste anymore time or money trying to blindly attract people who don't want or need your product - oh no, an inbound marketing agency is much more clever than that. One of the first things you'll need to do when implementing an inbound strategy is create your buyer personas so you can start to understand your target audience and their wants, needs and fears - allowing you to create well thought out content that appeals to people that actually want to read it. By building content focused around your personas' wants and needs, you can answer their questions and build their trust as they keep coming back for more helpful content. You'll end up with more people visiting your website and start to build a consumer centred community so you can gain leads from people who are actually interested in what you have to offer, helping you to reach your business goals over time.
By turning visitors into leads
The secret to successful inbound marketing agency is having the ability to lure your customers in - and then keep them coming back for more. So not only will creating valuable content drive more traffic to your website and help you climb up the search engine rankings, but it will also keep your visitors coming back - eventually turning them into prospects. By creating a content strategy, you can offer your prospects nuggets of advice and share knowledge on certain topics you know they are interested in so that more and more people gravitate to your business. Mix it up and make it interesting; think ebooks, infographics, blogs, vlogs - it's all about keeping people engaged so they start to trust you and your business. Over time, your following will increase and trust in your brand will grow - and once someone trusts you, it's only a matter of time before they turn into a client. In fact, once you've determined a lead is ready to talk to you, 60% of the sales cycle is already over and you've officially done the hard part - so you can start to enjoy the rewards!
By continuing to delight
But it doesn't just stop when someone becomes a customer. If you want to enjoy consistent and explosive business growth, you need to keep nurturing those relationships long after the deal has been closed. And you guessed it - inbound can help with exactly that. In fact, one of the key features of any inbound strategy is that it allows you to build an ongoing relationship with your customers. By delivering a continuous stream of relevant content throughout all stages of the customer lifecycle - including once the sale has been closed - you can increase customer loyalty and keep them coming back again and again. Email nurturing and targeted messaging enables you to send tailored messages to keep the conversation going and convert one-off sales to customers for life and loyal brand advocates. A repeat customer is actually worth more to your business than a brand new one who buys once and never again - so it's really important to continue to delight if you want your business to grow.
By allowing you to measure success
Continuing to delight doesn't mean that you keep on doing the same thing over and over again though. If you're going to successfully use inbound to grow your business, you need to keep on analysing how your inbound strategy is working and make continual adjustments as and when needed. In fact, one of the great things about inbound is that you can tweak it as you go - so if something isn't working, you can identify what's not hitting the mark and try again. Inbound can provide you with a clear measure of your marketing success, what's working and what just isn't - which means you can understand exactly what's going on and try new tactics in a way you just can't with traditional methods. It's not a one-side-fits-all approach - but by continuing to monitor your marketing, you can get a better understanding of your customers' wants and needs, putting you in a stronger position to continue to delight and turn them into loyal advocates of your brand.
An inbound marketing agency is uniquely positioned to help you scale your business over time - and done right, you can address customer needs at any point in the sales cycle. It's not just about closing that one sale; it's about continuing to nurture your prospects over time, turning them into leads, customers, and finally long term brand advocates. And as your customer relationships start to flourish, you can bet that your business will too! If you'd like to find out more, contact Angelfish Marketing today for a free marketing health check and see how inbound can help you to grow your business.