If you're wise to the inner workings of the methodology of inbound marketing for recruitment agencies, you'll know that relevant, engaging content is the key to attracting prospects to your website. As a recruitment agency, however, you'll also be aware that UK recruitment is now the world's most competitive market - which means that your content is going to come up against a lot of competition!
So, how can you ensure that your content marketing for recruitment is going to attract candidates to your website over those of your competitors'? Read on to find out...
Step 1: Choose a topic
As the most competitive market in the world, there will doubtlessly be a lot of different recruitment topics that you can write content about. However, the key here is to choose something that is current, relevant to your particular sector, and offers a "take-away" for your readers i.e., it enhances their knowledge in a way that will benefit them. For example, if your agency specialises in education recruitment, you could write about the latest tried-and-tested techniques to succeed in a teaching job interview.
Step 2: Pick a persona
As you think about structuring your content, it's essential that you keep your buyer personas in mind. Put yourself in the shoes of your persona, and write in a way that is going to appeal to them specifically. For example, if you hire students that have just graduated, make sure you refer back to their goals, challenges and worries. Keep these at the forefront of your mind when writing and attempt to address these throughout.
If you're not entirely sure who your recruitment agency's buyer personas are, we have a handy guide about creating your own buyer personas which you can download for free here.
Step 3: Select a keyword
Once you have a grasp on what you want to write about and who you want to write for, it's time to choose a keyword. Briefly explained, keywords are phrases that people put into search engines, such as Google, to find the information they need. It's essential that you include keywords in your content, as this helps communicate to search engines what your content is about, and (with additional help from social media shares and backlinks from high-quality sources) means that your content is more likely to rank higher in search engine results pages (SERPs). Software such as SEMrush and Moz have excellent keyword search tools that will help you find relevant and high-performing keywords to use in your content. When it comes to writing your content, be sure to include your keyword at least three times (once in the first 100 words), and be careful to avoid "keyword stuffing" i.e. using a lot of different keywords repetitively in one piece of content - as Google will register your content as spammy, and send it down the SERPs. Also be sure to include the keyword in your content's title tag and meta description for even greater visibility!
Step 4: Research
Research plays a particularly important role in your content creation. Google your topic, and have a read of the most relevant search results, gathering the most relevant and interesting information you can. Also, don't be afraid to have a look at what your competitors are writing about. See whether they've written anything on your current topic - if they haven't, fantastic! If they have, don't despair - see how you can write about it better with the research you've done. Of course, be sure to add in your own nuggets of knowledge and expertise to give it an even bigger boost!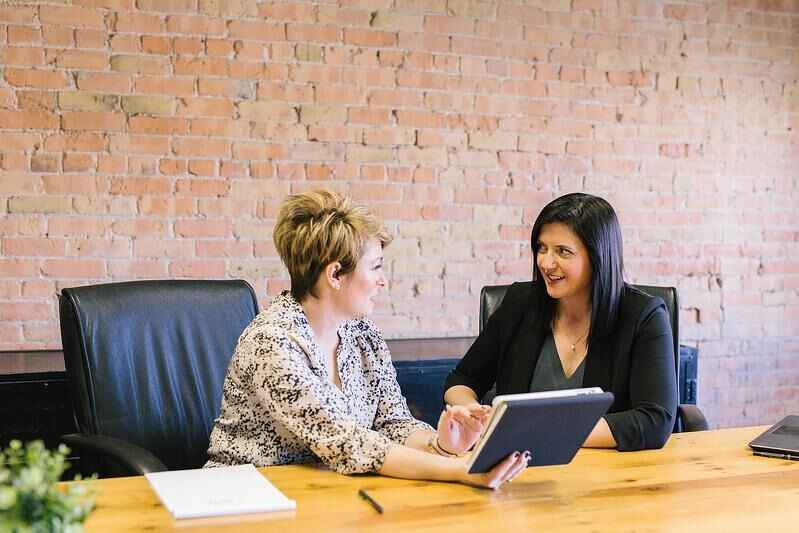 Step 5: Start writing!
Now that you've chosen your topic and keyword, you know who you're writing your content for, and you've done your research, it's time to put pen to paper (... well, keyboard to word document)! Some essential things to keep in mind include:
Word count
At Angelfish Marketing, we find that somewhere between 300 and 500 words is about right for a pillar page. However, research around how long blog and web content should be leaves the answer very much up for debate. The Write Practice suggests that, if you're looking to drive traffic to your website from Google, you need to be looking at around 2,450 words long, whereas B2C found that the average word count for top ten ranked Google posts rose to between 1,140 and 1285 words between 2017 and 2018. What's more, snap suggests that, in today's fast-paced society where consumers want information as quickly as possible, people are less likely to want to read longer, more detailed content. At Angelfish Marketing, we would recommend that for inbound marketing for recruitment agencies, you should only write as much as is really necessary; long enough to give your prospective candidates the information they need and to include your chosen keyword, but not so long that candidates feel overwhelmed and walk away.
Brand Voice
As you write, keep your recruitment agency's brand voice at the forefront to make you as unique, memorable and appealing to prospective candidates as possible.
Title
The title of your content is going to be the first thing your candidates see when they commence their search, so make sure you write one that is eye-catching, intriguing and offers your take-away/a benefit to candidates.
Internal Linking
As you write, be sure to hyperlink text to other relevant content and pages on your recruitment website. This is particularly useful as this will help to establish the structure of your website for Google, which in turn boosts your SEO. Similarly...
Outbound Linking
Outbound linking means including links in your content to other websites. For example, if you find some particularly interesting statistics on a website, be sure to link out to this. Yoast are particularly strong advocates for outbound linking, saying that:
"Websites need to connect to each other to be found, by search engines and users. [...] It'll make it easier for search engines to find websites, but also gain insight in how pages relate to each other. We can build a better web, together."
Backlinking/External linking
Once your blog is published, it's also worth getting in touch with the companies whose websites you have linked your content to, to ask if they will link back to you in return. According to Moz.com:
"External links are one of the hardest metrics to manipulate and thus, one of the best ways for search engines to determine the popularity of a given web page."
Essentially, backlinks will help search engines to see your recruitment website as one of high quality and relevance in your field, and will subsequently result in your content ranking higher in SERPs.
Offering to write a guest blog for a site that relates to your recruitment agency that contains well-placed backlinks to your site is also a great way to get your content noticed by potential candidates in a way that draws them back to your website.
Engaging with influencers in your field is also a great means of drawing in candidates; you can do so by asking an influencer to write content that links back to you whilst simultaneously referencing and linking your own content to said influencer. According to HubSpot, 71% of marketers say that quality of customers and traffic from influencer marketing is better than other kinds, so it's certainly worth investigating as a recruitment agency!
Imagery
Finally, be sure to break up your content with some eye-catching and relevant imagery. The more personalised to your recruitment agency you can make this, the better - particularly as search engines like Google are now starting to recognise images as part of SEO as well as words. And don't forget to change your images' alt text to your content's keyword for maximum impact.
What next?
Your content may now be written, optimised for search engines and uploaded ready for prospective candidates to find, but this is only the beginning. Now, it's time to share your content; the more you can share it, the more traction it is likely to receive, and the higher up SERPs it will get! Some of the best ways to share your content include:
Social Media - share your content via short and sweet social media posts on all your recruitment agency's profiles, including Facebook, Twitter, Instagram and LinkedIn. Don't forget to include a couple of relevant #hashtags for maximum impact!



Paid Social

- this is a fantastic way of focussing on a range of demographics to display sponsored ads and content in your target audience's feeds. This can be especially helpful for recruitment agencies considering the current competitiveness of the market. Paid Social will give you the opportunity to break through the crowds by targeting your ideal candidates' social media news feeds with your content.


Email Marketing - as part of your inbound marketing strategy for recruitment agencies, you can use your email newsletter to share your latest content with current candidates. As a result of them clicking through to read this content, you will soar up SERPs, ensuring that new potential candidates will be able to find and read your content, too!
Conclusion
By following the above steps, you'll be on the right track to creating content marketing for your recruitment agency that truly stands out from your competitors and converts prospective candidates into committed ones. If you're part of a recruitment agency and are looking to improve your current content further, or find other means of boosting your website traffic and attract new candidates, you can download our free Ultimate Digital Marketing Guide for recruitment agencies