There are a lot of buzzwords and industry jargon in marketing.
From SEO to metadata, PPC to CPC, there's a lot to get your head around when it comes to effective digital marketing.
However, as a recruitment agency, you can't not have a strategy in place; as we're sure you're well aware, the recruitment sector is getting more and more competitive.
So, to help you make the most of your marketing spend, we've highlighted how to get the best return on investment (ROI) in this blog, as well as some marketing ideas for recruitment agencies to try out.
We're seeing amazing results from our digital marketing for recruitment agencies, so read on to ensure you're doing everything you can to get the most from your marketing spend.
3
ways to get the best ROI from your recruitment agency's marketing
spend
1. Identify your
goals
One of the first things you should do when planning your digital marketing strategy is to identify your goals. This will ensure that you're measuring your ROI correctly.
The first thing you need to do when setting a clear goal is make sure that it is specific, measurable, attainable, relevant, and timely – or SMART. For example, a goal of yours may be to "increase your candidate lead generation by 20% in six months".
In this case, you have a clear goal that is easily measurable by looking at your campaign's metrics. It's relevant to your digital marketing strategy, achievable, and has a set timeline.
Knowing your goals will enable you to track your spending and your overall ROI, as well as identify areas of improvement. You could work out the current cost per conversion to create achievable goals.
For example, working out the cost of finding candidates versus successfully placing them could reveal what the candidate is actually worth to your business in financial terms.
To do this, you'd need to work out the value and cost of a conversion for the business. You'll need the following information if you have it:
The average number of

CV submissions/applications

required to fill a single vacancy. This is difficult to work out if

you're

using traditional marketing methods as it's hard to track the costs accurately.



With digital methods, however, it is possible to track much of the lead sources as you can

work out the cost of application/CV per digital channel, which will then help to answer the

conversion rate, the cost per acquisition and ultimately the ROI achieved from your digital

campaign.





Average sales value to the business of a single contract
Think about how much you're currently spending on traditional marketing methods, such as print advertising and cold calling – it's likely these costs are equating to much more than digital inbound marketing.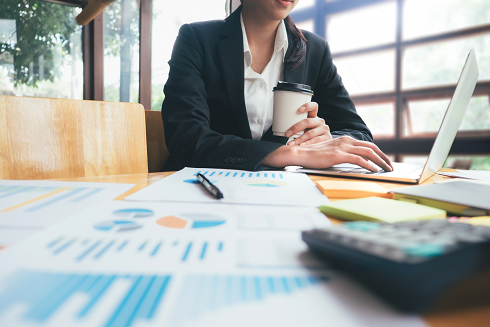 2. Don't be afraid to try new things
Getting a high ROI is like baking a cake without a recipe; you may have to try different measurements to get the best rise, so it's a good idea to test out a few different techniques to see what works best for your agency.
For example, one month, you could try putting more of your marketing spend into Facebook advertising in order to increase conversion rates.
You may see a jump in your website traffic, which would be pretty tasty; plus, it could lead to a rise in candidate applications as people click through to your job page.
Looking at your data will provide important insights – and by creating a process that carefully monitors data, you can adjust your campaigns based on the opportunities discovered through data analysis. Some key metrics you should monitor to drive ROI are:
Cost per lead
Number of applications received/new contacts in database
Unique website visitors
Blog post views
Ad conversions
So, going back to our example, maybe your Facebook ad wasn't so sweet with conversion, but perhaps promoting your best performing blog post within an email campaign will cook up something more impressive.
3. Focus on inbound marketing techniques
Research reveals more than half of marketers realise a higher ROI with inbound marketing, compared to outbound. And 54% more leads are generated by inbound marketing than traditional marketing methods.
Why? Well, consumer behaviour is changing, with more and more people wanting to research around a particular product or service before investing in it. This means that traditional outbound techniques – often used within recruitment agencies – are becoming ineffective.
This includes cold calling, direct mail, and newspaper advertising. People no longer want to be approached, meaning marketers are adjusting to accommodate this.
The inbound marketing methodology could help you improve your ROI on digital marketing for your recruitment agency as it focuses on attracting people to your business.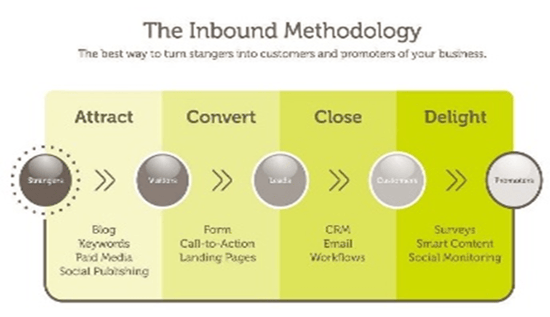 The inbound methodology is a multi-stage process where strangers are turned into customers and, ultimately, promoters of your agency. The goal is to grow your business by reducing your marketing costs and increasing your ROI.
One way you can impact your recruitment agency's return on investment is by producing blog content. Blog content can be shared on social media and will drive traffic back to your website (we have some great content marketing ideas for recruitment agencies in this blog).
In fact, according to HubSpot, companies that focus on creating posts for their blog are 13 times more likely to increase their ROI every year. The other benefit of blogging is that it will strengthen your SEO and the authority of your website too.
As you can see in the diagram above, creating blog content is in the 'attract' stage of the methodology, meaning that if you can capture your readers' attention, they may then 'convert' into leads, perhaps by downloading a helpful guide in exchange for contact details.
Content such as 'Top 10 interview tips' would be a good place to start – remember to offer something educational, informative, and relevant to your industry, not just general office updates!
Once your readers turn into a lead for your agency, you can nurture them by sending them helpful emails and answering any questions they might have. This will help build your authority and trustworthiness as a recruitment agency.
Through this, they may apply for one of your clients' jobs, making them a customer. Now that they're at the end of the 'sales funnel', delighting them with smart content and asking for their feedback will encourage them to spread the word about your recruitment agency to other potential prospects.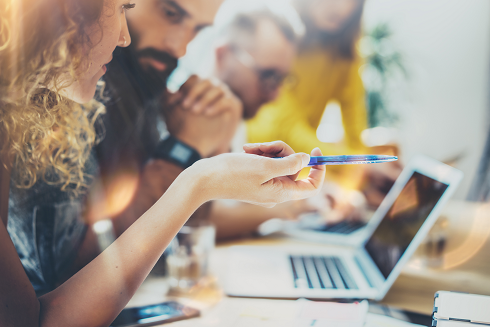 Where do I start?
Getting a positive return on investment isn't an easy process, especially within your ever-competitive market. The call for candidates to sign up has never been in such high demand, so it can sometimes feel like you're racing to get ahead of your competitors.
At Angelfish, we have had great success with implementing digital marketing for recruitment agencies – even helping a client to achieve a huge 4000% increase in their lead generation and a 1,131% increase in website visits!
With marketing being such a lengthy, time-consuming process, it may benefit you to consider hiring an agency to do the legwork for you.
To get more marketing ideas for recruitment agencies and information about how digital marketing for recruitment could improve your return on investment, download our free guide below.
It details everything from generating more leads to optimising your website and is a great way to get started with your marketing...