Regardless of your industry, the web is an ever increasingly competitive space. Battling it out on the SEO playground has never felt trickier. Just when you think you've got it sussed, the rules of engagement change and everything that worked in the past seems futile. And there's always some SEO expert selling their magic sauce for traffic-pumping success. But the truth is there is no magic sauce. And Google isn't trying to thwart online businesses by making it hard for you to rank. They want the same thing we all want: A great user experience and for everyone to find the best, most relevant content as easily as possible.
This is where the topic cluster SEO strategy comes in...
Turn your on-page SEO tactics into topic cluster tactics
You've researched your longtail keywords and created a list of blog topics that you hope will attract the right people to your site. This feels like a great SEO strategy. You're creating content based on what your ideal customers are searching for... and taken great care to find the balance between keyword relevance and competitiveness. So why aren't you getting more of the right people to your website?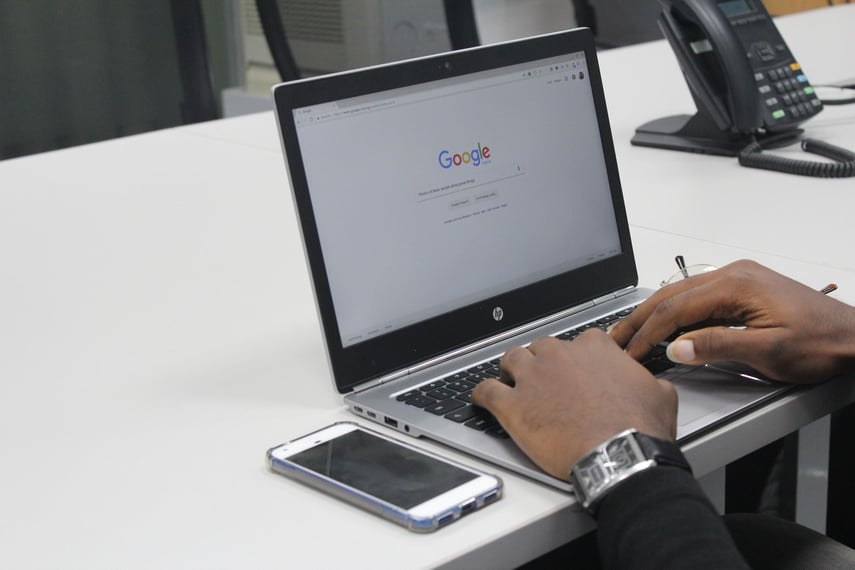 In fact, in the past, this would have worked reasonably well. But a couple of things have evolved in recent years:
The way we use search engines has changed: You no longer type (or speak!) 'carpet cleaners in London'. You're now far more likely to try 'how to get red wine stains out of carpet?'. This evolution first started with Google's Hummingbird update back in 2013. The algorithm began parsing out phrases rather than focusing on keywords alone. With search engines now smart enough to identify intent, users are getting a better experience. Now SEO pros have shaken up their strategies to match.
Google's algorithm has evolved: They want to give users the most relevant, useful and authoritative content. While this objective itself hasn't changed, the way that Google ranks pages has.
In a bid to rank for keywords your ideal customer is searching, your site has become bloated. You've created an abundance of similar blogs on the same topic... all bobbing around in a sea of competitors' articles chasing after the same people. The result is a messy, disorganised site with repetitious content and none of it is ranking as well as you'd hoped. You're just not getting the traffic you should be getting.
How topic clusters enhance your SEO
SEO experts are shifting to a topic cluster model. This is a more organised approach to content planning and structure: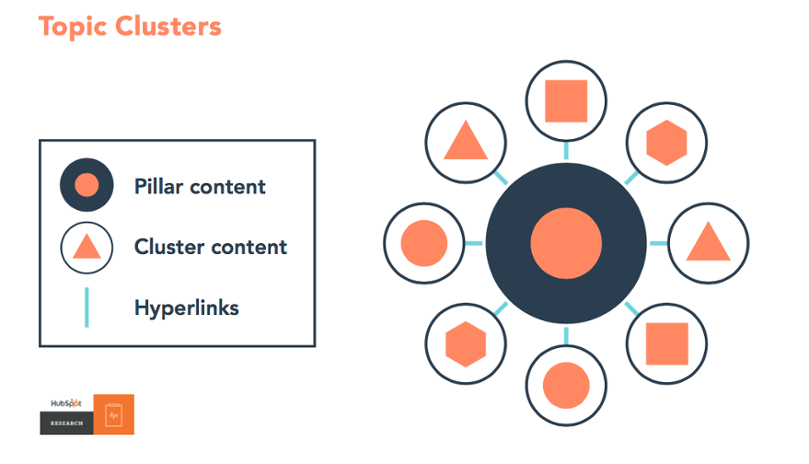 Here, a single "pillar page" is the nucleus for one overarching topic. Longer than a typical blog article (often around 1-2k words), the pillar gives a broad overview of a complex topic and links to multiple related pages. The shorter pages can go deeper into specific areas of the topic and link back to your pillar with the same hyperlinked keyword. Your cluster content pages should also link to one another (not just the pillar).
Now you've made it easy for Google to crawl through your site, see your pillar as an authority on the topic and decide you worthy of a top spot on their SERPs. If one of your pages performs well, the whole cluster gets a boost.
Topic cluster SEO strategy reorganises all the pages on your site vying for Google's attention. Now you have a network of connected, relevant and well-organised content. In time, your pillar page has a far better chance of climbing the rankings ― attracting more of the right people and filling your site with potential customers.
How to start using topic clusters to boost SEO fast
The good news is that if you already have a bunch of relevant content, you don't have to start from scratch. Instead, use this as an opportunity to update existing content and reorganise ― with topics (not keywords) as your guide.
Audit your current pages and blog articles and categorise them into topics. Aim for around 10 core problems your personas want help with.

For each topic batch, look for pages that you can easily upgrade to pillars (i.e. the longer, broader pieces) vs the cluster pages (shorter, pithier pieces).

Research which keywords should be your primary focus (the ones that will link to and from pillar to cluster pages)

While you're here, does anything need updating? Could you improve and you the content to make it more relevant and valuable to your visitors?

Identify content gaps and create a content plan to fill them.

Track your results, refine and optimise.
Topic clusters are one branch of a successful SEO strategy. If you'd like to know more about increasing visits from your ideal customers, we have SEO experts on hand to help you succeed.
Find out more about SEO solutions here.