The recruitment agency space is hyper competitive
…
…but many recruitment agencies have still managed to grow successfully via traditional marketing and sales methods. As a result, there is lots of space for recruitment agencies to gain significant competitive advantage over their rivals right now – particularly in the search engine space.
So, how do you get advantage over the competition in Google?

The answer: SEO for recruitment agencies.

It might sound a little daunting, but it's actually relatively simple – the crux of any difficulties usually only lies in agencies not managing to execute it successfully over time, which is where the opportunity lies.
To successfully implement SEO and outrun your competitors, you need to do the following 13 things to your website:
1. Do keyword research
A keyword is a word, phrase or query that someone types into a search engine like Google in order to find the information they are looking for, and keyword research is the process of identifying the keywords that your prospective clients will look for in order to find your website.

With these keywords, you can then start building content around what your customers want to read (more on that in point 7 below) and subsequently boost the level of traffic coming to your website.
Useful resources:
2.
Make sure your site has SSL
SSL stands for Secure Sockets Layer. An SSL certificate is a small data file that ensures that any and all data passed between the web server and the browser remains private.

There are a variety of different SSL tickets you can have, and it makes up part of Google's search ranking algorithm, making it a fundamental part of successful SEO for recruitment agencies.
Useful resources:

3.

Check your Google My Business listing is up to date and add as much detail as possible



Ensuring that all your information is correct, up-to-date and detailed as possible vastly increases your chances of showing up in Google's Local Pack, Local Finder, Google Maps, and general organic search rankings.

If you're not already set up with Google My Business, you can do so at https://www.google.com/business.

Useful resources:

4.

Set up

G

oogle

A

nalytics
When it comes to SEO for recruitment agencies, Google Analytics is a particularly useful tool for tracking and reporting on your organic website traffic. With this, you can see how your content, landing pages and more are performing, and create a strategy for making improvements.
Useful resources:


5. Set up Google

S

earch

C

onsole
Google Search console can improve your website's SEO by allowing you to
measure
its search traffic and performance
fix
any
issues and
push it up Google search
results
pages (SERPs).
Useful resources:

6.

Boost

your website

health
By checking your website for and fixing any errors, broken links, and broken pages, your site health will increase, and – as a result – rank much higher in SERPs. You can check for any errors using tools like SEMrush.
Useful resources:

7.

Add Google

J

obs structured data on your website



Essentially, by adding Google Jobs structured data to your job posts, you'll make your job postings eligible to appear in a special user experience in Google Search results!

Useful resources:



8.

Set

clear

rule

s

for

your staff around making

jobs live on your

web

site
Some essential ones include:

l

imit

ing

repeated content

–

never be tempted to copy and paste descriptions for similar jobs. It pays to re

-

structure or write fresh content each time!

e

nsur

ing

any

templates

used are

error free

I

deally

,

us

ing

your previous

keyword research for your jobs to include in your pages

a

rchiv

ing

your jobs when they close

(this will help to reduce the chances of repeated content)
Useful resources:



9.

Produce and publish blog content on your website



Content is king, and by posting relevant, engaging, timely and relevant content on a monthly basis, you'll increase your chances of attracting prospective candidates to your website!

Be sure to use a relevant keyword from your keyword research in these, mentioning it in the title (if you can), once within the first 100 words of your blog, and then another couple of times in the remainder of the blog. Be sure not to use it more than this to avoid keyword stuffing.

Useful resources:

10.

Optimise your blogs with

title tags, headers

,

meta description

s

and links
When you upload your blog to your website, ensure that they are fully optimised by:
i

ncluding your keyword in the title tag

u

sing head

ing

tags

–

I.e. H1 for the main blog title, H2 for subtitles, and H3 for listed items.

This will help your content get featured in Google Snippets!

b

reaking up the paragraphs of your blog – I.e. no more than three lines per paragraph

includ

ing

a meta description of no more than 155 characters for the blog, and include the keyword

i

ncluding internal links to other parts of your website – this will connect your content and help Google understand the structure of your website, giving it a higher overall domain authority

i

ncluding links to external relevant, trustworthy websites and blogs

(be sure to avoid competitor websites, of course!)
Useful resources: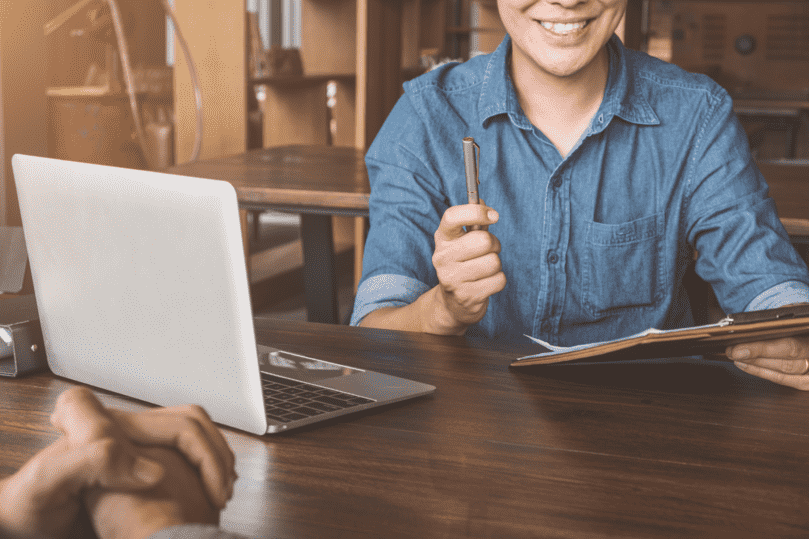 11. In fact, do this across your entire website!
Use title tags, header tags and meta descriptions on every page of your website.
Just be sure to use only one keyword per page, and don't use the same keyword across multiple pages. It's also a wise idea to keep a record of the keywords you've used and on what page of your website to avoid any keyword cannibalization.

Useful resources:

12. Share your blog content on social and include the keyword you used in the copy
Once your blog is published, be sure to share it on your recruitment agency's social media accounts. We would recommend posting about one blog two times a week for up to four weeks and writing the social media post copy to not only include the keyword, but also to reflect the platform you're sharing it on.

For example, LinkedIn posts should be more long-form and formal, whereas Facebook and Twitter can be more conversational and fun.

By sharing your content on social media, you'll be increasing the likelihood of candidates finding your content, and therefore visiting your website – and he more website visits you have, the higher your website will rank in SERPs.
Useful resources:

13.

Aim to get new good quality websites linking back to yours every month
By getting other relevant websites with high domain authorities to link back to your own content and website pages each month, you'll boost your chances of increased traffic to your website and Google will see your website as high-quality too, which will push it further up the SERPs! 
Useful resources:
If you
can
do all these things consistently, you
'll
start to see your website's organic traffic increase as your number of rankings increases
,
and you start getting found for relevant pages and jobs in
G
oogle.

Here are some examples of how other businesses improved their search results when implementing these methods:
Client 1

The month before Angelfish's inbound campaigns were implemented, this recruitment agency client's website was registering at 61 organic sessions.

However, just one month in, this shot up to 1,305 sessions and continued to stay on that level over the coming months, peaking again in July at 1,482 organic sessions:

This increase in organic traffic was due to our on-page SEO, technical SEO, and content strategy – all of which helped to raise their search visibility.

Prior to working with us, our client was ranking for just 16 keywords. By month five, we'd helped them increase this to over 198 ranking target keywords!
Search visibility (%):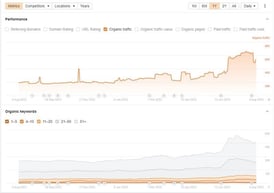 Ultimately, this had a huge impact on the number of candidate enquiries the agency was attracting from its organic search engine traffic.

Here you can see how organic searches became the leading source of candidates:

Client 2

Here's another example – this time, from a financial services recruitment agency that Angelfish worked with.
In January 2019, this agency was ranking for just 394 ranking keywords. We started our work implementing the methods we've been talking about in this blog, and by November the website was ranking for over 1000 keywords – a staggering 176% increase in ranking keywords on Google!
This had a huge impact on the number of visitors to the recruitment agency's website. Over the same period, where they'd started at 370 organic visits per month in January, they rose to 3084 by November 2019 – an incredible 733% increase in search engine traffic to their website!




Please note: None of the figures include the significant proportionate increases in direct traffic in all cases.
So
, there you have it!
That's what you need to do to make your website a client- and candidate-generating machine!
Don't think you have the time or technical team?
Not a problem. Here at Angelfish, we're hot on all things SEO, and could help you see as much as a 400% increase in your organic traffic with our SEO for recruitment agencies solutions.

To get started, book your free SEO audit and one-hour consultation with us today: