In today's increasingly online world, it comes as no surprise that 60% of consumers now make purchasing decisions before even speaking to a sales rep. So, knowing that your prospective customers are likely to go to your website before coming to you, it's important that you optimise your website so it's easy to find, exciting, engaging, easy to navigate, and as enjoyable to use as possible.
You already have a great website? Brilliant! So why do you need to spend time optimising it?
Unfortunately, even the very best-looking and feeling websites aren't of use to anyone if they remain buried in the endless list of results that search engines like Google and Bing famously have to offer. And when you consider that 71% of search traffic clicks come from the first page on Google, whereas second-page results only get 6% of clicks, the reality of this really does hit home. So what can you do to get seen? Well, this is where SEO comes in.
What is SEO?
In brief, SEO stands for Search Engine Optimisation, and essentially means optimising your website to appear higher in search engine results. When you optimise your website with top-notch SEO, you'll have the best possible chance of prospective customers discovering your website and engaging with you. It's as simple as that! (Though you can always read up on it more here).
So now you know why optimising your website is so important, how do you do it?
There are a number of different SEO solutions you should spend your time on in order to optimise your website! Here are some of the most essential ones:
Keywords are the actual and specific search terms that people type into search engines like Google to find the information they're looking for. If you get the right keywords in your website's content, you've taken a huge step towards getting your website discovered by your target audience! They also give your content much more focus, so it'll appeal to your audience more. Just be sure you don't fall into the trap of "keyword stuffing" - it's never good for your website in the long term! We have a great guide to keywords for beginners on our website with more info, which you can download here.
Title tags are an indicator to search engines (and readers) of what a particular page of your webpage is about, and they're a clickable headline that appears in search engines. In order to work effectively, the title tag needs to contain a keyword focus, and be relevant to the page to encourage traffic to the page. For example, by searching "hubspot" below, you can see the title tag right away here: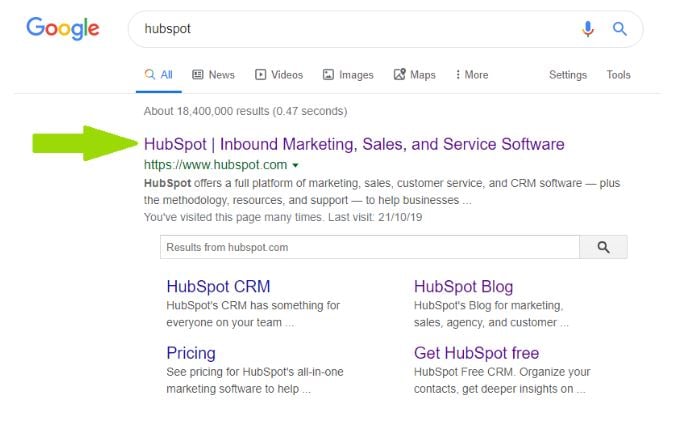 Having high quality backlinks - in other words, getting other credible sites to link back to your website - will boost your website authority significantly, as it's an indication of how important or relevant your website is. They're also an excellent long-term SEO solution, as a link lasts a lot longer than a paid ad or other traditional marketing tactics; in fact, if you optimise your website with backlinks, they will continue to send referral traffic to your site for the duration of their lifetime, so they're definitely worth the time you invest in them. For example, as you can see below, HubSpot has 473,243 links pointing to its website. This is key to its huge domain authority score of 91!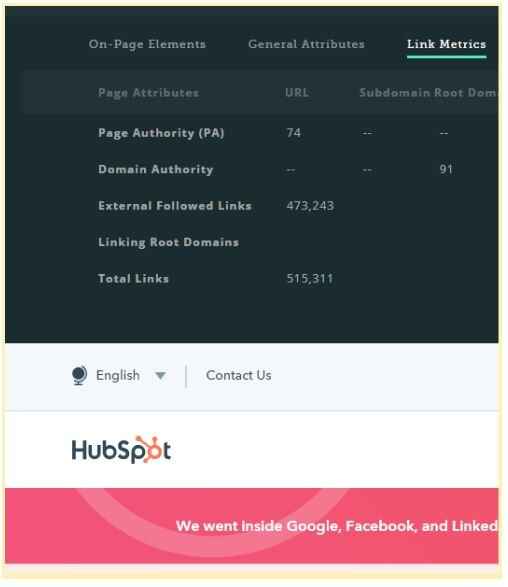 Exciting content to share and promote on social media
Creating exciting content - blogs, to be specific - on a regular basis is an essential for optimising your website. Of course, it's not enough just to write about anything and everything; you need to make sure you optimise your website with content that is relevant to your target audience and answers their questions, contains all the right keywords, and is of a sufficient length to get to the top of search engine rankings. For more tips on creating content for your SEO, take a look at this blog.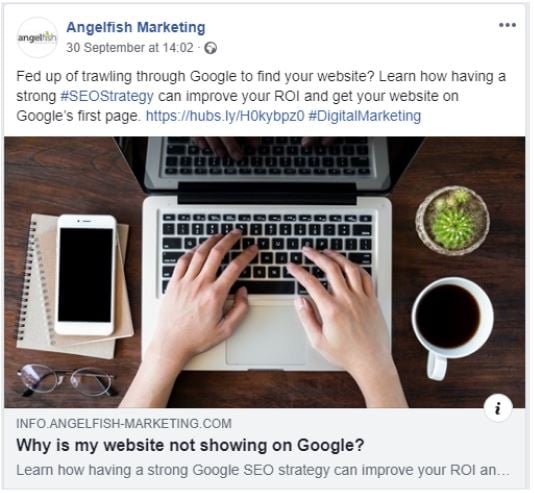 There is also quite a bit of evidence that there's a connection between social media posts and website rankings on search engines (at least in some way)! So once you've written your content, it's important that you share it via your social media pages with an enticing caption to give it that extra push.
It's worth noting of course that, when we say take time, we really do mean it - there are no shortcuts in life, so why should making your website as discover-able as possible be any different?
The good news is that we have a bunch of great packages that'll help you take your SEO above and beyond – starting with a free site review and consultation with one of our experts. Just get in touch for your free SEO audit and you'll see your website at the top of Google searches in no time!