Your GamePlan is a critical piece of the digital marketing jigsaw and will help you to align your business objectives and growth goals.
The GamePlan then helps you set actionable monthly tasks that need to be completed to achieve your marketing goals and of course, ultimately, your business and growth objectives. Below, we walk you through the process in more detail.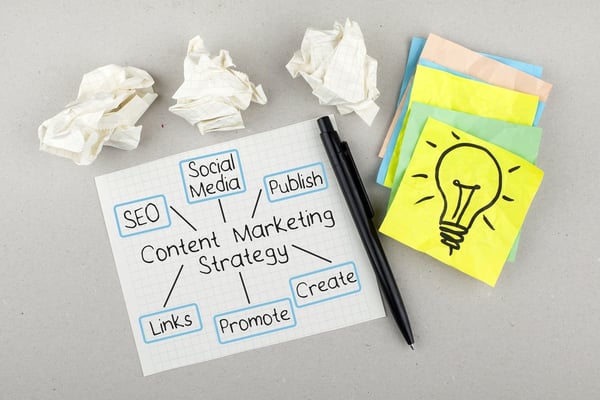 How do we do this and how much of my schedule is this going to need?
Owner/Director/Marketer required time: 3 x online meetings - 4 hours total over 6-8 weeks
Keyword Research & Competitor Analysis
So, the GamePlan starts with us conducting your keyword research and competitor research. You send us your top 5 keywords and a list of 5 competitors and we'll do the rest.
Deliverable: Keyword targets and recommendations document with the identification of core opportunities in your space. Two competitor reviews.
Persona Development
Next up is your Persona Development. We send you some initial homework (30 mins tops) and then we run a two-hour online session where our team help develop your persona story for your top two target prospects. We have our content team producing ideas live with you for future content for your blog, news, email marketing & social campaigns in the future.
Deliverable: At the end of the session you will receive a full write up of your personas.
Content Ideas & Mapping
We then move onto the content mapping work. Our content team take all the ideas, tweak, refine and come up with more good fit ideas and map these to align with your persona targets, their buyer journey and the topic areas that will help inform your social media strategy, your SEO and keyword targets. We produce your content calendar with recommended ideas and an ideal structure. We then require you for a one-hour session to review and approve these ideas.
Deliverable: You then receive your content map and a big list of ideas for future content marketing campaigns.
Goal Setting & Planning
Next, we move to goal setting & planning.
We review, analyse and interpret your existing web traffic and google analytics. If you don't have google analytics set up, then we set this up for you and start tracking.
We then run a one-hour session with you and your team to review (or estimate) your required traffic and lead requirement to fit with your business and growth objectives. We then discuss how much you need to achieve to get to your goals in terms of traffic, leads and new customers from your marketing. We then discuss possible solutions and look at budget, resources, and timeframe with you and produce all of this into a final GamePlan for your business.
Your Final GamePlan
Deliverable: 65-85 page Inbound Marketing GamePlan including:
Situational Analysis & Health Check
Competitor Analysis
Persona Stories & Key Challenges
Keyword Research & Opportunity Identification
Targets For Year One
Solutions & Planning To Achieve
Content Ideas & Plan/Calendar
PPC Explainer & Plan
SEO Explainer & Plan
Social Media Explainer & Plan
Resources Library Access (including 7 eBooks)
At this point, you can use us for training, delivery of your campaigns or just advice to help you achieve your business and marketing goals. Our next step delivery solutions start at £500 per month for tactical support or training and our full inbound marketing solutions start at £2k and can run up to £7k for large organisations with aggressive growth requirements.
However you choose to implement, DIY or with our support, you now have a solid GamePlan to achieve your growth!
Still not sure. You can learn more about the reason all organisations serious about their growth and development need a marketing plan. Click to read: Why do I need an Inbound Marketing GamePlan?