So you've finally made the decision to sort yourself out with a new website but now the moment has come you're a little confused – do I choose a template design? Do I go for a bespoke website design? How much should I spend? Can I cut corners? These are all probably questions you've thought of over the last few days.
Your website is essential to your brand identity and these days your new business generation; you need to get it just right. When considering a website design you have two main options that are available: template or bespoke. But what does this mean? Which one is the best fit for me?
Template Website Design
Essentially template website design does exactly what it says on the tin. It is a pre-built website that has been created by using a template. These types of websites are readily available across numerous platforms for people all over the world to purchase, companies that offer these services include Theme Forest and Template Monster. The purchaser is then able to drop in different logos, images and utilise different colour schemes to make the website tend to their needs.
However, this is the extent of template website design's flexibility as customisation is extremely limited and is restricted by the template's parameters. Due to these types of restrictions and the fact that template website design is not built using unique code, it's easy to understand why these types of website design are budget friendly. These website designs may seem more appealing to small or start-up businesses that need to get up and running as quickly as possible because of the price but there is more to consider than price when purchasing a website design.
These types of designs are usually cheaper to purchase as they are pre-built and time effective in setting up. This is because more often than not, they have been built using old and outdated code. This can have a negative effect upon Search Engine Optimisation (SEO) as it can make Google's life harder to find and index your website, resulting in low domain authority issues and harming your chances of ranking for a top-spot.
Bespoke Website Design
A bespoke design is at the other end of the spectrum compared to template website designs. These bespoke websites are tailor-made by experienced designers and developers to adhere to your business specifications and requirements, making these designs completely unique to your business.
Most professionals will create a beautiful bespoke design, but good designers will also work with you throughout the process to ensure you'll have complete support, advice and guidance. This could save you from making some costly mistakes when trying to bend template website design's to your will!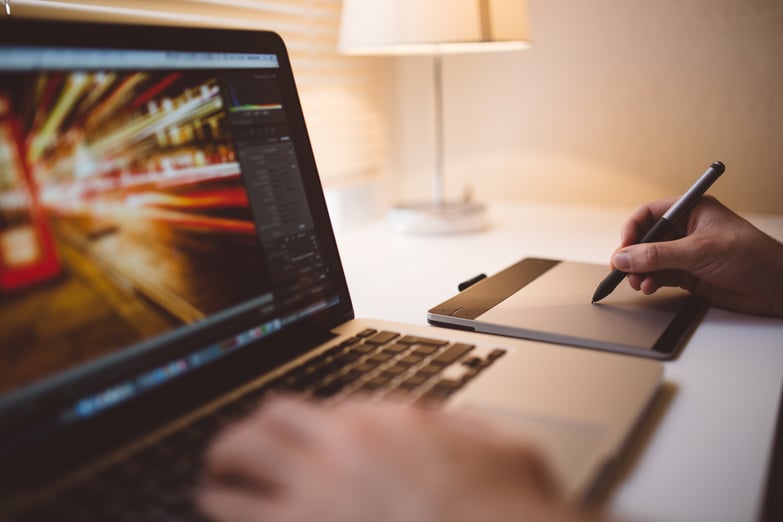 Alongside their guidance and advice, bespoke website designers and developers will usually spend additional time ensuring your bespoke design, not just functions but also looks great across a range of different platforms including both browsers and devices. Although the development time for bespoke designs is longer than templated design, it's often well worth the wait.
After the bespoke website design has been created, the benefits don't stop there either as your site won't just look good, it'll be found easier by potential visitors too. Search engines will rank your website higher as every element of your new website (primarily the code) is completely unique making their life easier indexing and referencing your website.
You can also help search engines by making sure your new website is optimised correctly via the back-end CMS. This can be done by ensuring meta descriptions, headings and page titles have all been included, these are just a few basic SEO optimisation tips that you can do. Check out our SEO article for more information here. Having a bespoke design created will ensure you have complete access to the CMS system of the website meaning you can edit, change and manage your website easily without being bound to the confines of a template web design.
Although template website design may be a good fit for young businesses or individuals that have strict budgets or are under extremely tight timeframes, the non-monetary benefits of bespoke design far out-weigh the price for many businesses. In today's world, one size definitely does not fit all; it's GOOD to stand out from the crowd. To be unique. To be individual. The quality, usability and search engine visibility of your potential website should not be compromised because of your website design choice; the wisest option is to invest in your business and to invest in bespoke website design.
Creating a website that that doesn't just look beautiful but also delivers a return for your business is essential. Download our website design top tips and start your website transformation today...