As inbound marketing experts, we see a lot of websites. Some of them are great, but many of them could be improved to adhere to the inbound marketing methodology.

Your website plays a crucial role in the success of your business. It's often the first encounter that people have with your brand, and a slow, clunky website with poor navigation and a negative user experience is hardly going to give a good impression of your business.

As well as being your shop window, your website is your lead generation and conversion machine – without it, you'd be lost and it is a vital piece of your businesses marketing puzzle.
Speaking of marketing puzzles, sometimes clients come to us asking us for a new bespoke website design. But it's not always the website that's the issue – it's the marketing. Without marketing to support your website, it's not going anywhere. Sometimes, ugly websites have the ability to convert better than pretty ones anyway due to a number of conversion points throughout the site and engaging content. We've written a blog post on this - you can read it here.

However, if you're looking for a website re-design, how do you know when the time is right for a redesign?

Here are five sure-fire signs that it could be time for a new bespoke website design.

1) Too many visitors leave without taking action

Even if your website looks good, this doesn't mean it's doing its job. One of the main goals of most websites is to convert visitors – if that's not happening, something's wrong.

Check your analytics. How long are visitors actually spending on your site when they arrive? If they leave pretty sharpish then this could indicate poor website usability or that your content is just not up to the job. Great content is what keeps visitors coming to your site. Whether it's their first visit or their tenth they're coming to your site for relevant, educational and helpful solutions to their buying problems.
This content needs to help your prospective customer in some way and convert them into a lead. To do this, you'll need to include conversion points throughout your content and your website. These include things like calls to actions and email sign-up forms. Check the pages of your site – is the content engaging? Is it useful to the user and does it have a clear goal? If not, that's something you need to change. This doesn't necessarily mean you need an entirely new website re-design but you could optimise your current site to include great content and conversion points.

What do your existing customers think about your site? If you don't know, ask them. Create a quick survey directly on your website, or email one to a select group of customers and ask for feedback. Survey Monkey and Hotjar are just a couple of the tools you can use to do this.

Ask them what they like and dislike about your website, what they would change, how easy they find it to navigate, whether they enjoy the experience of using it, what made them want to stay, what made them want to leave, and anything else you want answers to.

2) It's so slow it makes your users cry

A slow website is almost certainly losing you business. People don't like waiting around online (or anywhere, for that matter). If they have to twiddle their thumbs as your website loads painfully slowly every time they click on a link, not even your most loyal customers will wait around for long.

They'll leave, and they might never come back.

Various problems could be behind this. It may be that your web host is not helping matters, in which case it could be time to switch hosts. Or it might be that the images are slowing down your site, in which case you might need to compress them.

But there's also a good chance that your old clunky website needs some serious work to convert it into a slick conversion-boosting machine – and a re-design from the ground up might be the simplest option.

3) It's showing its age

Refreshing your web design ensures you can keep up to date with current trends and modern usability techniques. It also increases trust with users (according to a ResearchGate study, 94% of people said that a website with a good design is more trustworthy).

People quickly come to expect certain things from websites, such as attractive images, intuitive navigation, slick slideshows and instant chat. If you are not providing what they want, you're going to turn off potential customers.
Websites evolve all the time, so make sure your site evolves too and stay ahead of your competition.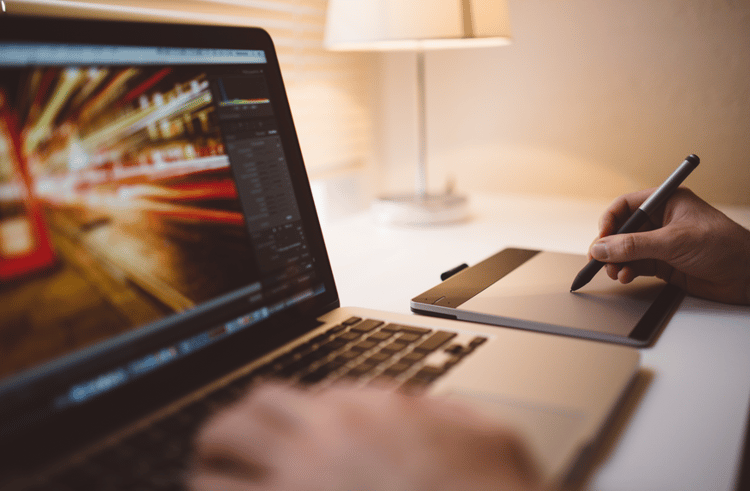 4) You still insist on using Flash

Everyone loves Queen (us included!) but no one loves Flash on websites, and they haven't done for 6+ years.

If your website is built in Flash, it could be hurting conversions. Why? Flash simply isn't supported by modern technology. Google, Yahoo and Bing have a hard time picking up Flash websites, and this hurts your visibility.

And because some mobile phones like iPhones don't even support Flash, this affects the user experience (and with 1 billion iPhones currently in circulation, that's not something you can afford to ignore).

5) You need to call your designer every time you want to update it

Do you find yourself constantly seeking professional help every time you need to make even the smallest change to your website?

Back in the day, this was the way it worked but times have changed.

If your site is built on a proprietary CMS owned and controlled by one developer (or no CMS!), it's time to ditch it. A modern, open-source CMS like WordPress is fast, flexible and completely accessible to anyone with even a slight knowledge of websites.

Whether it's posting a new blog, updating a new one or even making minor design changes, a modern CMS makes it easy. So don't get stuck on a baffling bespoke platform that drives you crazy every time you attempt to accomplish even minor tasks. Ditch it, and switch to an altogether more modern solution.

One more crucial thing to remember

If your site is still not mobile friendly, this is something you need to make this a priority. A non-optimised website is simply not an option any longer.

This might not mean you need a new bespoke website design – if you're happy with your website how it is, a designer might be able to create a mobile-friendly version.

Whatever your solution, just make sure that people can access your site on their mobile devices, or it's not going to be doing you any favours.

In 2016, Google changed its algorithms in what was widely referred to as 'Mobilegeddon'. This prioritised mobile-friendly websites in its mobile search results.

From now on, if your site is not mobile optimised, people searching for it on a mobile device won't find it.

A lot of people are searching on their mobiles these days. In fact, since May 2015 mobile search has been bigger than desktop search, and now nearly 60% of searches are made on mobile.

It's more than just your visibility that's at stake if you don't have a mobile-friendly site. Mobile visitors want a good user experience, and you stand a much better chance of keeping them on your site and converting them into customers if they can navigate and view your content with ease.

When 62% of companies with mobile responsive designs have seen increased sales, this cannot be ignored.
Your site plays a big role in effective inbound marketing, so get started by downloading our website design top tips guide and get all the information you need to get a fantastic bespoke website design that will give you the edge.